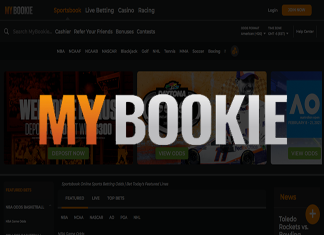 Established in 2014, MyBookie is relatively new to the market, but has quickly become one of the industry's leading online sports betting sites. Although their .AG domain implies they are domiciled out of Antigua, they are actually located in the gaming-friendly jurisdiction of Costa Rica.
What We Like
Sports bettors can feel reassured that they are playing with a safe and secure online bookmaker that is recognized as one of the most respected online entertainment companies and best betting websites. MyBookie understands that customer service is extremely important to today's sports bettors and strives to offer exceptional customer service that you'd expect from a top sportsbook.
Mobile Friendly
MyBookie has a modern and mobile friendly betting site, with a user-friendly betting interface. MyBookie is mainly a sportsbook, providing odds on every major sporting event, in a variety of wagering types but they also offer casino as well as exceptional racebook betting, where players can bet on thoroughbred and harness racing at all major North American tracks.
Bonuses
MyBookie offers one of the highest bonuses in the industry with a generous welcome bonus of 50%, up to $1,000 for first time depositors, as well as a 20% cash bonus, up to $500, for re-loads.
What We Don't Like
There are not many major issues to complain about, but some players might be concerned that MyBookie offers a relatively small selection of international sports for players that enjoy betting on those markets. They focus more on the U.S. sports markets.
Sharp Bettors vs Casual Bettors at MyBookie
Another potential issue for some might be that they do not accept wagers from players they deem to be 'sharp'. In fact, on their homepage footer they state:
"MyBookie is a world class sportsbook that caters specifically to recreational gamblers. We do not accept wagers from professional bettors, sharp side movers, syndicate or propositional players. MYB reserves the right to deny action or payments at any time. If any of these activities occur, then all plays will be void and the original funds will be sent back to the player."
Be wary if you think you might fall into this category, and go elsewhere. We would recommend Bookmaker.eu for these types of players – they accept both recreational and professional players and never kick out any winning players.
MyBookie Overview
Minimum Wager
MyBookie accepts minimum wagers of $10 and maximum wagers of $1000 online. They claim to have no limits for wagers made over the phone.
Wagering Options
Straights
Totals
Moneylines
Parlays
Action Points
Open Wagers
Teasers
If Bets
Reverses
Buy Points
Round Robins
Futures
Props and Live Betting
Sports You Can Wager
NFL Football
College Football
NBA Basketball
College Basketball
WNBA Basketball
NHL Hockey
MLB Baseball
Soccer
Tennis
Golf
Motor Sports
Boxing
Horse Racing
Olympics
Mixed Martial Arts
Minimum Deposits
Minimum $50 USD. Maximum $5,000 USD.
Deposit Methods Accepted
Visa
MasterCard
Bank Wires
Person-to-Person Money Transfer
Cashier checks (available immediately upon receipt)
 MyBookie Casino Sign-up Offer
MyBookie offers new casino players a free 50% bonus up to $1000, as well as frequent generous weekly promotions, free bet offers and prizes.
Mobile Betting
MyBookie has a mobile friendly website that allows you to bet from your smartphone anytime, anywhere.
Live Betting
Live betting is available for major sporting events including NFL and NCAA Football.
Website: