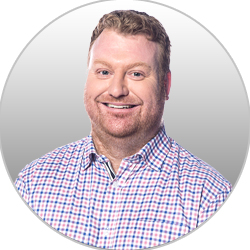 Co-Host of The Hockey Betting Podcast
Live from Toronto – well, more accurately, the GTA (Greater Toronto Area) – he's the co-host of The Hockey Betting Podcast, Cam Stewart. Cam is a hockey nut, a popular Canadian sportscaster, and a veteran sports bettor and horse bettor. Cam brings a wealth of NHL expertise to the show and is especially well-known throughout Canada for his "NHL Journey to The Cup". While hosting shows on sports networks like TheScore in Canada, Cam built his considerable experience in sports betting. Cam has appeared along side popular Canadian sports betting talk show hosts like, Gabriel Morency and others.
Cam Stewart on SportsGrid Network
Cam Stewart appears regularly on the SportsGrid Network on popular shows such as "Game Time Decisions" with host Gabe Morency, a successful sports betting program that focuses on last-minute betting information and news on upcoming sports betting events. SportsGrid is a 24-hour network that combines extensive fantasy sports and wagering coverage of all major sports and events, and delivers real time betting news, data, statistics and betting intelligence. "Game Time Decisions" is broadcast weekdays on SiriusXM SportsGrid Radio Channel 204.
Cam Stewart On FNTSY Sports Network
Fantasy sports and sports betting content were Cam's specialties as host and contributor on shows during his tenure at the FNTSY Sports Network, which was later merged with the SportsGrid Network. Cam continued to hone his special brand of irreverence and humour while working on FNTSY Sports Network sports talk programming.
TheScore TV and Radio Network
Cam was host of the radio program "Red Heat" on The Score Satellite Radio in Canada, and co-host of "Live@TheScore" and "Score on the NFL" programs on The Score Television Network. Throughout his time with TheScore Network, he appeared on numerous shows including "Drive This!", "Morency", "Covers Experts", "24in30" and other programs on TheScore Network.
Yellowknife, Northwest Territories Origin Story
After a memorable high school football career in the Greater Toronto Area as a monster on defence, Cam found his life's calling in the sports media industry while living in Yellowknife, Northwest Territories, where he began to cut his teeth in broadcasting along the banks of Great Slave Lake. Not many could have predicted at the time that Cam Stewart would emerge from Yellowknife as a diamond in the rough and continue on to have a successful career as a sports betting analyst and sportscaster. Just listen to him now.