Where to find the best current NHL odds?
Find the current NHL odds you're looking for here at The Hockey Betting Podcast because knowing WHEN to bet and WHERE to bet is just as important as knowing WHAT to bet.
With NHL betting historically taking place during the busiest time of the year with NFL, US college football, NBA and US college basketball action all going on at the same time. With so much to bet on, gamblers who enjoy betting on NHL odds are not left out, as many different hockey betting options are available during the season.

Understanding NHL Odds and Betting Lines
NHL betting is easy enough to understand. It is based on a money line similar to what you would see in baseball and a puck line, similar to what you see in baseball with the run line. You just lay more money on the favorite or get plus money on the underdog with the money line. Since the oddsmakers can't raise the pointspread, they raise or lower the money line as action comes in on one side or another. If you like a team and they win you are going to get paid because all the oddsmakers can do is increase the money line. You just pay more to bet NHL games if you like a favorite and get more money on the underdog.
Let's look at an NHL odds moneyline example:
Anaheim Ducks
Las Vegas Golden Knight
If you like Anaheim in this particular hockey betting line example you are getting +150, meaning you win $150 for every $100 wagered or the 15-10 equivalent if the Ducks win. If you take Vegas, you are risking $170 for every $100 you want to win in this example.
Let's look at an NHL odds puck line example:
Anaheim Ducks
Las Vegas Golden Knights
The other main option in NHL odds is the puck line, and like the baseball run line, it has you laying the extra goal or half goal. For example, you might have Vegas laying -1.5 goals but instead of minus money you now get plus money in hockey odds. They might be -1.5 (+120) in hockey odds. Anaheim would be getting 1.5 goals but now would be laying -140. In this case, if you liked Vegas, you would be giving a goal and a half to Anaheim and would have to win the bet by two goals or more for your ticket to cash. If Vegas won by only one goal it would be a loss on the Golden Knights. If you took Anaheim, you would have to either win the game outright, or lose by only one goal.
Let's look at an NHL odds O/U total example:
Anaheim Ducks
Las Vegas Golden Knight
The total in NHL odds is also available and usually listed to the far right and that is the total amount of goals scored in the game. If you see the word over or under it shows that extra money is required to bet that side. So in this example, if you liked the game going under the total, you would risk even money – but if you liked the game over the total, you would risk $120 for every $100 you wanted to win on the total bet.
NHL betting is a little lower on the food chain for bookmakers and sportsbooks around the world so it is possible that you may find some opportunities not seen in other sports. NHL handicapping is done just like you do with the other sports. You begin by looking at home and away statistics, goalie match-ups, head to head match-ups, etc. as you examine the daily NHL schedule.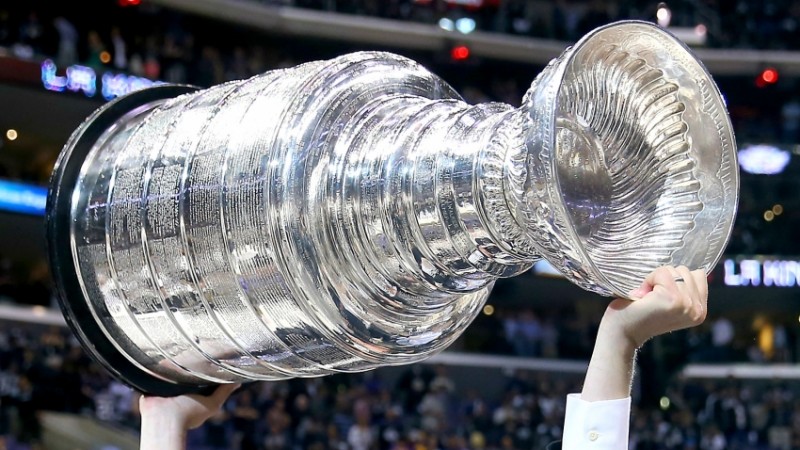 Betting on NHL Futures
Not to be left out of the discussion in terms of current NHL odds are NHL futures. These are bets made on teams to win the Stanley Cup, conference or season win totals. Stanley Cup futures are available throughout the year with odds ranging from 3-1 on top teams like Tampa Bay or Boston to 100-1 or more on weaker teams like Los Angeles or New Jersey.
NHL odds to win the Eastern and Western Conferences are also available throughout the year and are similar to Stanley Cup odds, with the odds basically cut in half for a team to win their particular conference.
Regular season win totals are posted at the sportsbook before the season begins, so gamblers can wager on how many games they think a team will win during the regular season.