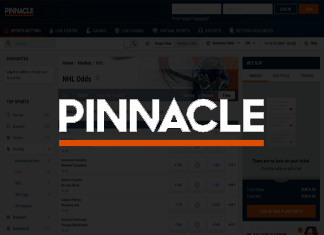 Pinnacle Sportsbook Review
Why sign-up and bet at Pinnacle?
Like they say: Winners are always welcome at Pinnacle. Pinnacle is widely recognized among avid and professional sports bettors as one of the most trusted online sportsbooks in the industry, and that is reflected in their slogan: Where Winners Bet.
Instead of deposit bonuses, Pinnacle is famous for offering low-margin (reduced commission, low juice/vig) betting lines, famous for having the highest betting limits, and famous for their reputation of never kicking out players for winning.
For winning bettors, the reduced juice betting odds at Pinnacle are a far superior value compared to deposit bonus offers (and high rollover requirements) for recreational bettors at other, typical sportsbooks. Plus, the high limits at Pinnacle allow you to win more because you can bet more. And most importantly: Pinnacle has earned their unrivaled reputation by paying out quickly and reliably for over 20 years.
Is Pinnacle legit?
Pinnacle was established in 1998 and operates from the Caribbean island of Curacao, Netherlands Antilles, one of the original birthplaces of the online sports betting industry in the Americas. Pinnacle is licensed by Curacao and by the Malta Gaming Authority in the European Union. With over 20 years in operation, Pinnacle has proven itself to be a market leader in bookmaking, so you can rest assured of their stability and solid reputation.
Is Pinnacle secure?
To protect your private personal and financial data, Pinnacle is required by their licensing authorities to utilize the same high security standards of 128-bit certificate-based encryption for their gaming and financial transactions that major financial institutions are required to use.
How is the customer service experience at Pinnacle?
Pinnacle delivers virtually impeccable customer service 24/7/365 exclusively via email with refreshingly prompt attention to any questions and to any requests that you may have. Since Pinnacle caters to sharp and professional bettors, you can expect their customer service to be on point.
It may concern some people that Pinnacle does not offer customer service by phone, however, they offer an extensive help center with search function that actually finds the answer to what you're looking for. In a lot of cases, Pinnacle makes using their website to find the answer to your question a lot faster and more convenient than making that call.
Does Pinnacle offer a welcome deposit bonus or reload deposit bonuses?
At first, it may sound strange to hear that the market-leading sportsbook in the industry doesn't offer deposit bonuses, but once you understand how reduced juice and competitive odds benefit sports bettors far more than deposit bonuses and their high rollovers, it's easy to see why you would choose Pinnacle over sportsbooks geared toward recreational bettors.
Most online sportsbooks offer welcome deposit bonuses and reload bonuses that come with high rollover requirements that all but guarantee square bettors will eventually lose their bankroll. For recreational bettors who don't expect to win over the long run, many choose to take deposit bonuses to extend their betting further out over time. Sharp bettors and winning bettors do not want their balances tied up with high rollovers.
Don't let your bankroll get squeezed by your boomaker's juice and rollover requirements. Reduced margins and sharper odds make Pinnacle a much better value than deposit bonuses and high rollover requirements. That's why opening a Pinnacle account is actually your first winning pick.
What is the Pinnacle promo code or bonus code?
Use promo code ______________ when you sign-up at Pinnacle and fund your Pinnacle account.
What are the requirements for opening an account at Pinnacle?
You need to be over 19 years old in order to open an account at Pinnacle. You must also be of majority age in your jurisdiction in order to agree to the terms or use for their gaming platform.
You must also reside in a country that is not prohibited by Pinnacle. For example, Pinnacle does not accept players from the US, UK or Australia. Other countries prohibited by Pinnacle are: Denmark, France, Germany, Ireland, Netherlands, Turkey, Spain, Singapore, Korea, Philippines, Syria, Czech Republic, Sudan, Italy, Iran, Slovenia, Sweden and Portugal.
How do I open an account at Pinnacle?
Opening a new account at Pinnacle is an easy 4-step process if you meet the basic requirements above.
Step 1 – Select your country location, enter your email address, and create your account password.
Step 2 – Enter your full name and enter your date of birth for age verification. You can not open an account with Pinnacle if you are under the age of 19.
Step 3 – Enter your physical address and phone number.
Step 4 – Create the security question for your account password reset, select your communication preferences, and finally, agree to the terms and conditions to create your account at Pinnacle.
It's that simple to sign-up for a new account at Pinnacle sportsbook, and their sign-up interface is very well-designed and easy to follow.
What currencies does Pinnacle accept?
Always check the Pinnacle cashier for current details, but Pinnacle accepts USD, CAD, EUR, GBP, AUD, NZD, JPY, NHD, SEK
How do I fund an account at Pinnacle?
Funding your account safely and securely with Pinnacle is fast, easy and convenient. For example, among various other deposit options, Canadians enjoy the convenience of funding via secure methods, like Interac, with no extra fees.
Pinnacle accepts a wide selection of deposit methods such as credit cards (VISA, Mastercard, Discover, Diner's Club, etc.), e-wallets (Neteller, etc), person-to-person transfers, crypto-currencies like Bitcoin, and bank transfers – the exact funding methods depend on what country you're in and [LINK TO CURRENCY Q] which account currency you choose.
You should be aware that certain deposit methods require more personal information to complete your transaction than others. In some cases, you may need to submit photos of your government-issued identification or other personal identifying information as part of the AML (anti-money laundering) regulations required by various gambling jurisdictions.
Are there any fees to deposit funds in my account at Pinnacle?
Always check at the time of deposit in the cashier for details just in case, however, almost all funding methods at Pinnacle have no extra fees.
Is there a rollover requirement at Pinnacle?
All online bettors learn about rollover requirements at some point in time. A rollover requirement is the total amount of money that you need to wager (betting action) in order to release your funds and make them available to withdraw, or in some cases, to be withdrawn without extra fees.
It is standard across the online sportsbook industry that companies are required by their licensing jurisdictions to enforce a one-time (1x) rollover requirement on the amount you deposited, which means you must wager (to risk) the amount of your deposit at least once (1x) in the sportsbook. The reason for this standard procedure is a result of AML (Anti-Money Laundering) requirements that are enforced in concert by multiple licensing jurisdictions.
Pinnacle offers high quality odds with reduced juice, and in exchange you have a choice between two (2) rollover requirement options: there is a three-time (3x) rollover requirement in order to withdraw your funds without incurring extra fees, and there is a one-time (1x) minimum rollover requirement, which does incur extra withdrawal fees.
What kinds of gambling do they offer at Pinnacle?
Pinnacle offers pre-game sports betting, virtual sports betting, and live in-game sports betting, plus both live dealer casino and regular online casino gaming.
Pre-game Sports Betting at Pinnacle
As a sportsbook that caters to professional bettors and sharp action, Pinnacle offers pre-game sports betting on almost every sports event available internationally and in North America. Pinnacle offers future odds and pre-game betting on all North American and international sporting events.
If you enjoy hockey, Pinnacle offers betting on the NHL, CHL, AHL, plus hockey leagues in various European countries like Sweden, Finland, Russia, Czech Republic, and others, and even international Olympic hockey events.
Pinnacle is a leader in e-sports betting, and offers a robust line-up of e-sports bets available to the public. Pinnacle also provides a library of educational articles on how to bet on e-sports.
Live In-Game Sports Betting at Pinnacle
Pinnacle offers live in-game betting on select North American and international sporting events and special events, such as the Stanley Cup, Super Bowl, World Series, and NBA Finals, for example.
Virtual Sports Betting at Pinnacle
Virtual sports are gaining in popularity because they offer more betting action even when real sports are in between games. Pinnacle offers virtual versions of football league play, tennis, basketball league play, horse racing classics, dog racing, chariot racing, motor racing, and table tennis to name a few.
Instant virtual sports betting is like scratch card action for virtual sports with the results of your sports wager revealed instantly. Pinnacle offers instant virtual sports betting on football, horse racing, greyhounds, motorcycle speedway racing, and harness racing to name a few. Instant virtual sports are becoming more and more common betting options while you wait for your favorite sports events to start.
E-Sports Betting at Pinnacle Sportsbook
Pinnacle is "The Home of E-sports Betting" with odds on all sorts of e-sports events such as CS:GO, DOTA 2, League of Legends, Starcraft 2, and many more. Pinnacle is a leader in e-sports betting and has an extensive e-sports betting blog that helps you find out and learn more about how e-sports betting works, provides previews of upcoming e-sports events that you can bet on, and teaches the concepts and principles of e-sports betting and e-sports betting strategy.
Special Features of Sports Betting at Pinnacle
Lowest Margins (Low Vig, Reduced Juice, Low Commission)
As the pros know, you win some and you lose some, so prices matter when placing bets – saving a few cents on the vig adds up considerably over the course of betting on sports. And since Pinnacle offers the highest quality odds and operates on the lowest margins in the industry, winning bettors can expect a higher return on investment over the long run when betting with reduced juice at Pinnacle.
Mobile-friendly Sports Betting Interface
Pinnacle leads the industry with a mobile-friendly version of their sportsbook that allows you easily search for games and props using a search tool function. You can put together your bet slip before you log-in, and conveniently fund your account while on the go. The mobile version of Pinnacle sportsbook also offers live in-game betting odds and bet slip in the same mobile interface.
Pinnacle Sportsbook User Interface
The Pinnacle sportsbook interface provides for different ways of viewing betting lines, such as Asian view, and allows you to easily toggle between American odds and decimal odds, and between single-line and multi-line odds views. For extended use, the interface provides a switch between light and dark screen mode.
Pinnacle Casino
If you enjoy online casino gambling, Pinnacle has a suite of casino games to keep you enthralled. Pinnacle also offers casino bonuses to new players and special casino promotions and contests to existing players.
Find all of your favorite Vegas slots and table games are available 24/7 in amazing resolution including blackjack, video poker, roulette, baccarat, Mahjong, cribbage, Keno, bingo and many more table games.
Pinnacle casino also offer over 1,700 different slot games to choose from including progressive slot jackpots, online casino slot tournaments,
Pinnacle Live Dealer Casino
Live dealer casinos featuring video feeds of live dealers and live chat functionality is now the wave of the future, and Pinnacle offers a state-of-the-art live dealer experience. Find all of your favorite Vegas casino games and beautiful dealers waiting for you to ante up. Pinnacle live dealer casino offers blackjack, craps, roulette, and unique casino game shows like Deal or No Deal and Money Wheel. If you like to look your dealer in the eye, the live casino is as real as it gets from your computer.
How can I withdraw funds from my Pinnacle account?
Pinnacle offers one of the widest selection of withdrawal (payout) methods in the industry. The exact withdrawal method depends on the currency and country of your Pinnacle account. Please check with customer service at Pinnacle for the payout methods available once you've opened your new account.
You should be aware that payout methods may require various levels of verification of personal information than others in order to complete your withdrawal transaction. In some cases, you may need to submit photos of your government-issued identification or other personal identifying information as part of the AML (anti-money laundering) regulations required by various gambling jurisdictions. Cryptocurrencies such as Bitcoin provide a greater level of personal anonymity than other payout methods.
Are there any fees to withdraw funds from my account at Pinnacle?
Withdrawal fees depend on the withdrawal method requested. Pinnacle also charges extra fees to customers who deposit and request a withdrawal before they have met the terms of their rollover requirements. Always check at the time of your withdrawal request in the cashier for the fee details specific to your request payout method.
Summary of Pinnacle Sportsbook Review
Pinnacle operates on a low-margin bookmaking strategy which delivers reduced juice and higher quality odds to sports bettors. Pinnacle also offers the highest betting limits in the industry across all sports. And most importantly, Pinnacle pays winners quickly and never kicks out players for winning.
Use promo code ____________ when you sign-up at Pinnacle and fund your Pinnacle account.